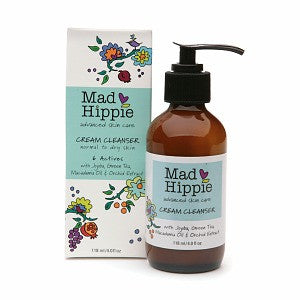 Cream Cleanser Hydrating Cream Cleanser Packed with Antioxidants
A blissfully, hydrating cleanser that softens & smooths the skin
"Soften skin while removing impurities"   – Mother Earth Living
.
Ingredient Highlights:
Organic Jojoba Oil – This natural moisturizer closely resembles our skin's own lubricant, sebum, and is readily absorbed into the skin.  Works to help provide a protective barrier through its antimicrobial and nourishing properties.
Orchid Extract – Rich in minerals and moisturizing compounds that have long been used for their protective and reparative effects.  Orchid extract is believed by many to contain an agent that slows cellular degeneration, allowing the orchid to bloom for dramatically longer than other flowers.
Organic Macadamia Oil – This exclusive oil contains the highest levels of the naturally occurring skin protectant palmitoleic acid, an essential part of sebum.  It absorbs quickly into the skin to provide instant moisturizing effects.
Sodium Hyaluronate – The salt of hyaluronic acid (HA), sodium hyaluronate has been shown to have better skin penetrating capabilities than HA alone.  Works to plump up and moisturize the skin while reducing the appearance of wrinkles.
Algae Extract – Mineral and antioxidant rich algae extract nourishes aging skin and moisturizes through its water binding properties.
Sesame Oil – Antioxidant rich sesame oil has long been used in Aryuvedic medicine. It is rich in several potent antioxidants, including vitamin E and vitamin A which help to reduce the appearance of sun damage and wrinkles.   The healing oil also has antibacterial properties which make it helpful in preventing abnormal bacterial growth on the skin.
Green Tea – Protects against free radical damage while aiding in the skin's resilience through its anti-inflammatory & anti-carcinogenic properties.
Sodium PCA– Derived from amino acids, sodium PCA is a naturally occurring humectant in the skin with high water absorbing qualities. Works to effectively hydrate the skin by absorbing and binding moisture to the skin.
Shea Butter – Used in Africa for centuries for its moisturizing and anti-inflammatory qualities, shea butter is a rich source of the powerful antioxidants vitamin A & E, as well as crucial fatty acids important in retaining skin elasticity.  Recent studies also suggest that cinnamic acid, found in Shea butter, reduces the effects of UV damage.