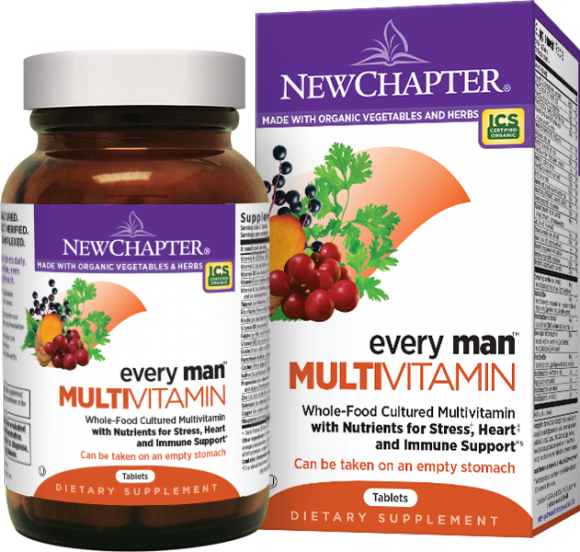 Whole-Food Cultured Multivitamin with Nutrients for
Stress†, Heart‡ & Immune Support*§
Available in 24, 48, 72, and 120 tablet sizes
Made with organic vegetables & herbs
Formulated specifically for the needs of active men
Can be taken on an empty stomach
 

Supplement Facts

Amount per 2 Tablets

% Daily Value
Vitamin A (100% as beta-carotene from culture media)
5000
IU
100%
Vitamin C (as ascorbic acid from culture media)
60
mg
100%
Vitamin D3 (as cholecalciferol from culture media)
1000
IU
250%
Vitamin E (as d-alpha-tocopheryl acetate from culture media)
30
IU
100%
Vitamin K (as phylloquinone [K1] from culture media and as menaquinone-7 [K2] from natto)
80
mcg
100%
Thiamin (as thiamine hydrochloride from culture media)
4
mg
267%
Riboflavin (from culture media)
5
mg
294%
Niacin (as niacinamide from culture media)
20
mg
100%
Vitamin B6 (as pyridoxine hydrochloride from culture media)
5
mg
250%
Folate (as folic acid from culture media)
200
mcg
50%
Vitamin B12 (as cyanocobalamin from culture media)
30
mcg
500%
Biotin (from culture media)
300
mcg
100%
Pantothenic Acid (as calcium D-pantothenate from culture media)
25
mg
250%
Calcium (from algae Lithothamnion [L. calcareum and L. corallioides])
30
mg
3%
Iodine (as potassium iodide from culture media)
75
mcg
50%
Magnesium† (80% cultured; 20% from Algae‡)
10
mg
2%
Zinc (as zinc oxide from culture media)
15
mg
100%
Selenium (as selenium dioxide from culture media)
100
mcg
143%
Copper (as copper sulfate anhydrous from culture media)
1.5
mg
75%
Manganese (as manganese chloride from culture media)
2
mg
100%
Chromium (as chromium chloride from culture media)
100
mcg
83%
Molybdenum (as sodium molybdate from culture media)
10
mcg
13%
Herbal Blends
Stress/Energy Support Blend (from culture media)
90
mg
•
[Organic Schizandra (berry); Organic Maca (root); Organic Chamomile (flower)]
Cardio Support Blend
75
mg
•
[Organic Fenugreek (seed) from culture media; Organic Oregano (leaf ) from culture media; Grapeseed Extract; Organic Hawthorn (berry and seed) from culture media]
Immune Support Blend (from culture media)
60
mg
•
[European Elder (berry) Extract; Organic Eleuthero (root); Organic Astragalus (root)]
Digestive Support Blend (from culture media)
45
mg
•
[Organic Aloe (leaf ); Organic Peppermint (leaf ); Organic Coriander (seed); Organic Cardamom (seed); Organic Artichoke (leaf )]
Prostate Support Blend
40
mg
•
[Saw Palmetto Extract (fruit); Pumpkin Seed Oil (seed); Nettle Extract (root)]
Organic Turmeric (rhizome) powder (from culture media)
9.6
mg
•
Ginger (rhizome) hydroethanolic extract
4.8
mg
•
Organic Turmeric (rhizome) supercritical extract
2.4
mg
•
Organic Ginger (rhizome) supercritical extract
1.2
mg
•
•

Daily value not established
Other ingredients: Culture media (organic soy flour, organic gum acacia, organic Saccharomyces cerevisiae [active and inactive], organic maltodextrin, organic orange peel powder, organic carrot powder, lactic acid bacteria [L. acidophilus, B. bifidum, L. rhamnosus], papain [deactivated], bromelain [deactivated], organic alfalfa powder, organic molasses and organic safflower oil),
organic gum acacia, silicon dioxide, lac resin, organic maltodextrin, maltodextrin and carnauba wax.
Contains: Fermented soy and fermented wheat (as food source for Saccharomyces cerevisiae).**
** The wheat has been processed to allow this food to meet the Food and Drug Administration (FDA) requirements for gluten-free foods.
Gluten free. 100% vegetarian; no artificial flavors or colors.
Caution: As with any dietary or herbal supplement, you should advise your health care practitioner of the use of this product.