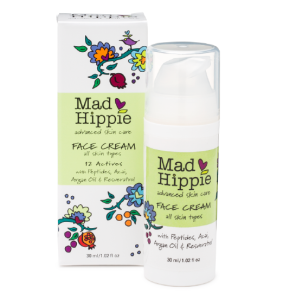 Face Cream Antioxidant-Rich Peptide Face Cream
Packed to the brim with peptides and actives, our face cream is formulated to kick-start collagen production while Mother Nature's best antioxidants neutralize aging free radicals.
*Awarded Best Facial Moisturizer in Natural Solutions Magazine's Beauty with a Conscience Awards
Ingredient Highlights:
Matrixyl 3000 – Naturally aids in the production of collagen & elastin, reducing the appearance of wrinkles and giving skin a "lifting" effect.  Matrixyl 3000 has been shown in clinical studies to reduce deep wrinkle surface area by 45%, wrinkle density by 37% & skin roughness by 14%.
Syn-Tacks – Dual peptide complex that interacts with the most relevant protein structures at the dermal-epidermal juncture to aid in the structural and functional integrity of the skin.  By stimulating production of Laminin V, Collagen type IV, VII and XVII as well as Intergrin, Syn-Tacks helps tone & firm the skin, & reduce the appearance of wrinkles  –  learn more about peptides
Coenzyme Q10 –  Reduces the appearance of fine lines & wrinkles by energizing skin cells, while also working to inhibit free radical & sun damage.
Resveratrol – Super potent antioxidant from wine & grapes that helps reduce the appearance of wrinkles & UV damage.
Green Tea – Protects against free radical damage while aiding in the skin's resilience through its anti inflammatory & anti carcinogenic properties.
Vitamin B3 –  A powerful antioxidant with anti-carcinogenic qualities believed to inhibit the harmful effects of ultra violet rays, help even skin tone & enhance collagen production.
Vitamin E – Contains powerful anti aging & anti carcinogenic properties.  Reduces the appearance of fine lines & wrinkles while it aids in the prevention of UV & free radical damage.
Aloe Vera – Skin protectant with natural healing qualities.  Increases the availability of oxygen to the skin and hence aids in the synthesis and resilience of skin tissue.
Coconut Oil – Moisturizes and soothes skin while creating a lipid barrier that fends off skin damage.
Argan Oil – Natural healing agent from Northern Africa.  High source of vitamin E, essential fatty acids & phytosterols that work to  moisturize the skin and reduce the appearance of wrinkles.
Grape Seed Extract – One of nature's most potent antioxidants, shown to inhibit UV generated skin damage and help protect skin from free radicals.
Acai Berry – Super antioxidant from Brazil that increases  levels of hydroxyproline, a vital amino acid required for the synthesis of collagen and elastin.
Pomegranate – Potent antioxidant that is a high source of ellagic acid, a polyphenol that has been shown to inhibit the growth of skin cancer.  Believed to also to help mediate the effects of ultraviolet rays & skin discoloration.